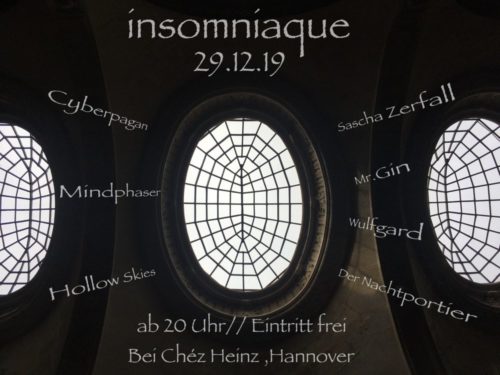 Hier nun die Playlist vom 29.12.2019 , es hat einfach nur noch Spaß gemacht, vielen Dank für die Rückmeldungen. Wer weiß vielleicht machen wir das ja noch einmal…. Die Liste sollte so ungefähr stimmen….
insomniaque 29.12.2019
Cyberpagan
1919 – Dream
A Blaze Colour – The New Ones
Vox Low – You Are A Slave
Theo Rio ft. Greta Thunberg – How Dare You
Звезды (Zvezdy) – Отчуждение И Пустота – Estrangement & Emptiness
The Body Electric – Dash 1721
Sascha Zerfall
Amyl and the Sniffers – I'm Not A Loser
RENDEZ VOUS – The Others
The Wraith – Comatic Romance
Escalators – The Day The Sun Burned Down
Agent Orange – A Cry for Help in a World Gone Mad
Beastmilk – THE WIND BLOWS THROUGH THEIR SKULLS
A Place To Bury Strangers – Nothing Will Surprise Me
Leatherface – Cabbage Case (Do The Right Thing)
Cyberpagan
L'An 2000 – Nonsense
Kite – The Rhythm
The Cure – M
Charles de Goal – Insight
undertheskin – Done
Creux Lies – Made
OTO – Anyway
Sascha Zerfall
Nicole Sabouné – Right Track
Billie Eilish – bad guy
Crystal Castles – Celestica
Alles.Scheisze – Ja Ja Natürlich (Feat. Das Flug)
Egotronic – Die neue Hammerhead
Autonomics – Bad Blood
1Ezra Furman – Calm Down aka I Should Not Be Alone
Jay Reatard – My Shadow
Hollow Skies
Kurs Valut – Ni
Isla Ola – Nebelmond
Frustration – She's So Tired
Add it up – Violent Femmes
Wulfgard
Killing Miranda – Burn sinister
Scary Bitches – Come dance with me Star Industry Crush

Angelic Upstarts – Solidarity
Mindphaser
Push Button Press – Night Out
Vaniish – Cold Fascination
The Twilight Sad – Girl Chewing Gum
Ritual Howls – Love Cuts
The Foreign Resort – Obsessing
The Rope – Lillian
Der Nachtportier
Martial Canterel – 3 Days
Agent Side Grinder – Die to Live
Martin Dupont – 01 Just Because (1985 Rmx)
Unovidual – Like I Am, Comme Je Suis
Ståltråd – "Eremit"
Der Nachtportier – Die Gestalten
Lebanon Hanover – Fall Industrial Wall
Mister.Gin
Dead Brothers – Everything's Dead
Forever Grey – The Style Is Death
Still Corners – Submarine
Nash The Slash – Dance After Curfew
Black Marble – Cruel Summer
Crash Course In Science – Cardboard Lamb
Liaisons Dangereuses – Etre assis ou danser
Mindphaser
TWINS – New Cold Dream, Pt. 2
Syzygyx – Hold tight
Boy Harsher – Country Girl
Wire – Short Elevated Period
Cold Showers – Dismiss
Hollow Skies
Telekoma – ich schau Dir ins Gesicht
All Gone Dead – NewSpeak (Room 101)
Fliehende Stürme – Satellit
ZNS – Vorwärts…Jetzt!
Pascow – Diene der Part
Der Nachtportier
Cocteau Twins – Sugar Hiccup
Asylum Party – Julia
?- My Friends Never Stink
Iron Curtain – First Punk Wars
Tornische – Fotodesintegracion
Wulfgard
Klutae – We are sinners (made in denmark mix)

Pop will Eat Itself – Ich bin ein Ausländer (die Krupps Remiy)
Fad Gagdet – Back to nature
Elysium – Ветер надежды
Neon Judgement – Ugly face
Die Antwoord – Ugly boy
Mister.Gin
Joy Division – Disorder
Ploho – Добрая песня
Veil Veil Vanish – Anthem for a Doomed Youth
Ortrotasce – World Unrelated
King Automatic – The Model
Ramones – Cretin Hop
Gesaffelstein – Hate and Glory
Hollow Skies
Heyoka – Heuchler
Grauzone – Wütendes Glas
Hessen Ganz Gross – Unter Der Achsel
Le Syndicat Electronique – Never Again
Werther Effekt – The Somnambulist
? – Monotone Zone
Les Ramoneurs De Menhirs – Bella Ciao
DER NOIR – Private Ceremony
Mister.Gin
D.A.F. – Verschwende Deine Jugend (1998 Remastered)
Police Des Moeurs – Tout Ce Qui Te Fait Mal Te Fait Du Bien
Einstürzende Neubauten – Yu-Gung (Adrian Sherwood Mix)
Solvent – My Radio
Chicks On Speed – Kaltes Klares Wasser
Mindphaser
1919 – Isolation
Traitrs – The suffeing of spiders
Winter Severity Index – Lighting Ratio
The Mission – Deliverance**
Wulfgard
Pendulum – The island Pt. 1, Dawn
Infected Mushroom – Deeply disturbed
Skinjob – Man (Mothers against noise=
Zombie Nation – Kernkraft 400 (Dj Gius)
I-F – Space invaders are smoking grass (Zombie Nation remix)
Mister.Gin
BAK XIII – Are Friends Electric?
Da Cruz – Warm Leatherette
The Plastic Noise Experience – Smalltown Boy – The Communards /cover
The Normal – T.V.O.D.
Moresque Foray – Human Race
El Hijo de la Cumbia – Los barrios (Versión entera)
Powersolo – Frantic
Hollow Skies
Les Rita Mitsouko – C'est Comme Ca
Stefan Eicher – Déjeuner En Paix
Pigalle – Dans la salle du bar-tabac de la rue des Martyrs
Mister.Gin
Sex Pistols, Louis Brennon – L'Anarchie Pour Le UK – Anarchy in the UK
La Rue Kétanou – Le Capitaine de la barrique
Scott Bradlee's Postmodern Jukebox, Chloe Feoranzo – Dancing With Myself
Richard Cheese – closer (nine inch nails cover)
Die Antwoord – Fatty Boom Boom
Hollow Skies
Marc Almond – – Jacky**
Nouvelle Vague – Blister In The Sun
Hildegard Knef – Ich möchte am Montag mal Sonntag haben
** Wunsch